Rosehill Dressage is a classical dressage training centre in Northville, Michigan, USA instructing students of all ages from beginners through to Grand Prix.
Towards the end of last year and through this year we have established the most rewarding working relationship with Anne Stahl, the proprietor and instructor. The net result to date is 15 dressage saddles for her clients. Many are the Suzannah Monoflap but also the Styletta and the Olivia. We started with primarily Spanish horses but then Warmbloods and off track TBs.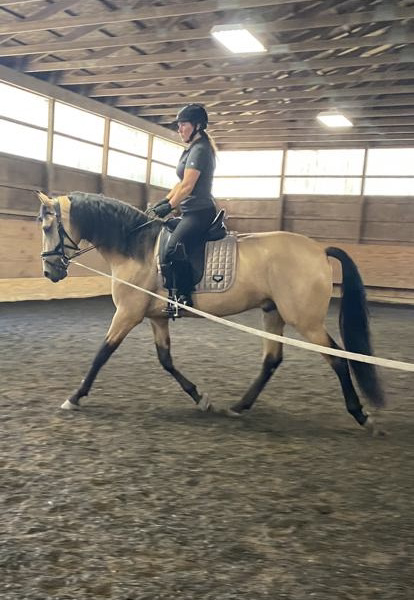 Laura & Inter Caracol, 3 year old PRE have an Olivia
Anne has years of experience and over these years has tried many different brands of saddle. She told us that constant problems were saddles moving from side to side and/or pinching the horse's shoulders and/or not being stable in the correct place on the horse's back. Problems were solved through a combination of Ideal's unrivalled range of saddles & trees for horses of all shapes and Ian's "ability to understand what we are experiencing and relate this to what he recommends as the solution". Anne went on to say "Ian is fab"! I think Ian would add that he wouldn't be so fab (!) without Ideal, their philosophy, their Designed to Order service plus the recourse from time to time to discuss the solution to a problem with Rob Lugsden, Ideal's owner and the inspiration behind their designs and philosophy.
There is so much that could be said but a few quotes from Anne say a lot! 
"The work of the horse improved and improved"
"horses are moving more freely & positively"
"moving more gymnastically"
"symmetry is important in training"
"it helps soundness"
"he's happy & comfortable in flying changes and straight"
and very importantly
"we now feel comfortable asking horses to work".
Talking to Anne, something else stood out for me and is an aspect of the saddle world that doesn't get so much focus…..the rider! One of the Styletta's was made for an unusual shaped horse. He has huge withers then drops away. "Watch the rider" says Anne, "totally in the right place" and "the horse swings through the back, remarkable improvement".
Overall, Anne said the riders "didn't have to think about the saddle, their body stable, their back supported". So everyone, watch the rider too when assessing a saddle!